Question time with author Hilary Robinson
December 17th, 2019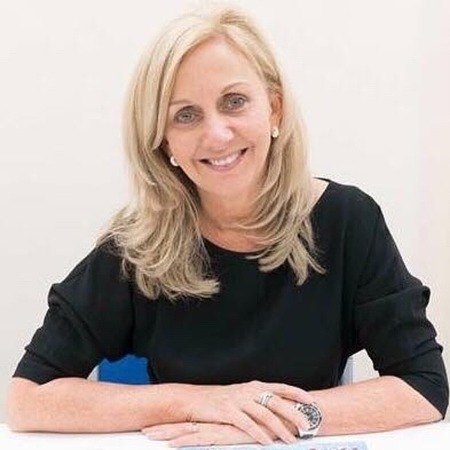 Get to know author Hilary Robinson a little better as she shares insight into her work and life, and her latest board book series, Gregory Goose is on the Loose!.
"If I had a set writing time I would miss the moments when ideas and concepts unite into extraordinary creative moments".
When did you decide you wanted to become an author, what prompted this?

I always loved writing and a teacher once told me at junior school, that I would be a children's author. Fostering that self belief and the fact my father wrote text books for universities, equipped me well in terms of knowledge and faith. I found writing both fun and therapeutic and I seemed to be able to say more, and in a more effective way, than I could when I spoke.

What was your favourite childhood book?

I grew up during the Biafran war in Nigeria. It was a dangerous time and we, along with several other foreign families, were on the deportation list many times. We were never deported but my parents took risks, including breaking evening curfews to help people and hiding our Nigerian nanny, Grace, who had been attacked, in our house. I found escapism in the form of books. For me, one book in particular stood out, which was little known in the UK but given to us by American missionaries - The Cat In The Hat by Dr Seuss showed me that ordinary situations can become extraordinary, but that chaos will return to order. I think it helped.
If you could tell your younger self any advice, what would it be?

I would tell myself to never take the opinion of others unless I truly believe it was justified. People, often because of their own insecurities, will cast aspersions on others, and it can be detrimental. If you are true to yourself and true to others, there is no need to worry about the words of others. Gregory Goose certainly does his own thing and I hope he encourages children just to have a go and not worry about what anyone else thinks!

How did you come up with the story for the book?

Gregory Goose Is On The Loose came to me one morning on a skiing holiday. I had seen a picture of a goose and I thought how funny it would be if a goose was dipping in and out of the ski runs! I then realised this would be a wonderful way to introduce children to different locations and experiences.

How has your background and location shaped your work?

My parents were not typical. I am one of four daughters and our upbringing was interesting. My father was an economist and my mother a mathematician and they were both profound and intellectual.

They encouraged us to 'think', they never cast opinions – I never knew what they voted or what their religious beliefs were, yet we were encouraged to take part in debates and religious services. They didn't want to influence our independent thinking. I think our imaginations were stretched by their outward looking approach to life, their compassion for others and their work ethic. They always believed that with privilege came duty. I wasn't privileged in the traditional sense of the word, but I was privileged in terms of world and cultural experiences and we were always encouraged to put more back than we take out.

Are there any people who you think have helped or inspired you to improve as a writer?

My teacher, Mrs Garritty, who always believed I'd be a writer, taught me a great deal. She encouraged me to be observant, to respond creatively and to translate sensual experiences into art and writing. Sadly, she died the year before my first book was published. My father was also encouraging and my mother an incredible editor. She could listen to me read a page of A4 on the phone and then say 'go back to para 2 – second line in' and then suggest how it could be rephrased!

What is your working process?

I don't have one! People say you need to be disciplined. I say the opposite. I write when the mood takes me, when an idea strikes and when I'm moved. I can be in the middle of washing the kitchen floor and I'll stop and write. I can be out shopping and I'll sit and jot down some notes – even on the stepper at the gym! My family are very patient. If I had a set writing time I would miss the moments when ideas and concepts unite into extraordinary creative moments. I have several ideas for Gregory Goose to go on more adventures, see more parts of the world and experience more challenges - and I'm writing them down as the mood takes me!

If you didn't write, what would you do instead?

I would like to be an Archivist, because I love history. I recently held a document that was signed by Henry VIII and I still can't believe that all these centuries later I touched a paper that was held by such an iconic leader. Or, if I could travel back in time, I would like to be a nurse during the First World War in one of our stately homes. I think the comradery, the sense of purpose, and the caring would be highly rewarding

What's been your favourite feedback?

Any feedback that I get from children is precious. I once received letters from a whole class and I spent one Saturday morning writing back to each and every pupil. Their teacher popped them in envelopes and filmed them receiving and opening their personal letters. If people take the time and trouble to write to me, it is only good manners to reply! I did receive a letter once though, addressed to me, which said 'Dear Jane Abbott, I think your illustrations are great' and one boy said I should be honoured to work with (illustrator) Martin Impey because 'he can draw a dog in 3 seconds!'.

Finally, give us a fun fact about yourself that nobody knows!

I'll give you a few:
I am related to William Wordsworth.
Through my Foljambe family line I may descend from King Eric of Sweden.
I was once treated for rabies prevention with stomach injections after we took in a rabid dog in Nigeria
I like marmite and peanut butter sandwiches. Yes, mixed together!
Oh – and I have a phobia of wooden lolly sticks. Apparently that is more common than you think...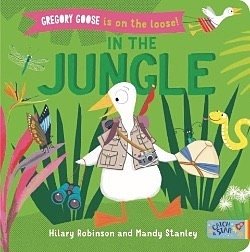 Gregory Goose is on the Loose! In the Jungle
AUTHOR : Hilary Robinson
ILLUSTRATOR : Mandy Stanley
Gregory Goose is going on Safari. Can you find him?
find out more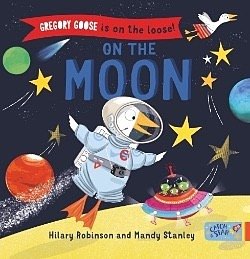 Gregory Goose is on the Loose! On the Moon
AUTHOR : Hilary Robinson
ILLUSTRATOR : Mandy Stanley
Gregory Goose is heading into space. Can You find him?
find out more
---
Comments (0)
No comments have been submitted yet.
Why not be the first to send us your thoughts
Leave A Comment


Thank you for your comments, they will appear shortly once approved.