Oscar-winning Reese Witherspoon to read Extraordinary!
January 27th, 2022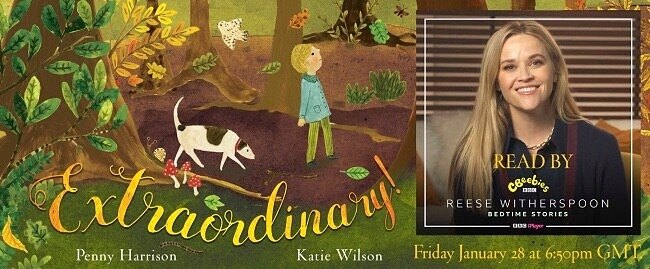 Oscar-winning actor Reese Witherspoon will be taking a seat on the BBC's CBeebies Bedtime Stories. The star of the show, however, will be Extraordinary! a children's picture book published in 2020 by New Frontier Publishing, written by Penny Harrison and illustrated by Katie Wilson.

Penny Harrison is a children's author, book reviewer, garden writer and lifestyle journalist. Katie Wilson, an illustrator and designer, illustrates sweet images with a hand-crafted feel for both adults and children alike.
Katie says: 'It's so exciting to have Reese Witherspoon read Extraordinary! on CBeebies. Penny wrote such a lovely story that reminds us to focus on the beauty of little moments. I loved illustrating some of the wonders that make our world a special place and I am happy that the book will be shared in this way.'
Together, they have created a wonderful tale about discovering the extraordinary beauty in everyday life.

Sophia Whitfield, Publishing Director at New Frontier Publishing says: 'We are delighted that Reese Witherspoon will be reading Extraordinary! on CBeebies on Friday, 28th January. Written by Penny Harrison and illustrated by Katie Wilson, Extraordinary! celebrates the seemingly ordinary moments in life. It encourages children to look around them at the wonder of nature and the joy it can bring to everyone. Extraordinary! is a particularly poignant book at a time when many children have been separated from friends and extended family. It is a gentle tale about the extraordinary but remembering the ordinary too, often the moments we will cherish forever.'

Although this will be Reese Witherspoon's first appearance reading on the CBeebies Bedtime Stories, she famously runs her own book club. Being no stranger to a good book, the pairing is sure to be extraordinary on the evening of Friday, 28th January at 6:50pm GMT. The bedtime story will also be available on BBC iPlayer.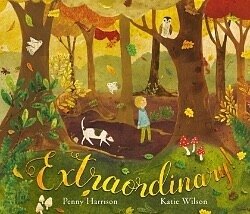 Extraordinary!
A gentle tale about reaching for the stars and being extraordinary... but remembering the ordinary too.
Extraordinary! celebrates the best moments in life: the ones we share with friends and family.
They may be simple, they may be ordinary, but they are moments we will cherish forever.
Purchase Here
Tags:
CBeebies
,
CBeebies bedtime stories
,
celebrity
,
Reese Witherspoon
---
Comments (0)
No comments have been submitted yet.
Why not be the first to send us your thoughts
Leave A Comment


Thank you for your comments, they will appear shortly once approved.