Inside the Illustration of Seal Child with Anna Pignataro
September 17th, 2021
See how new release Seal Child evolved during the illustration process with the wonderful Anna Pignataro!
Seal Child is my first book with New Frontier and it's also my first book with author Robert Vescio. I was so excited to read this story. It resonated with me immediately because my parents and sister came to a new land to make a safe home against all odds. For me it is a story of hope, home and safe havens. I adore using my watercolour to paint the sea. I do love using the medium to its full potential and I am always amazed at how the colours merge and weave a magic of their own.

When I first receive a new story I imagine it in my mind's eye. I imagine the colours, shapes and feelings of the text. Then I do a lot of sketching. I enjoy creating the main characters very much and I always start my sketches on tracing paper so I can layer, rub out and cut and paste very easily. Here are some first sketches of the girl and seal.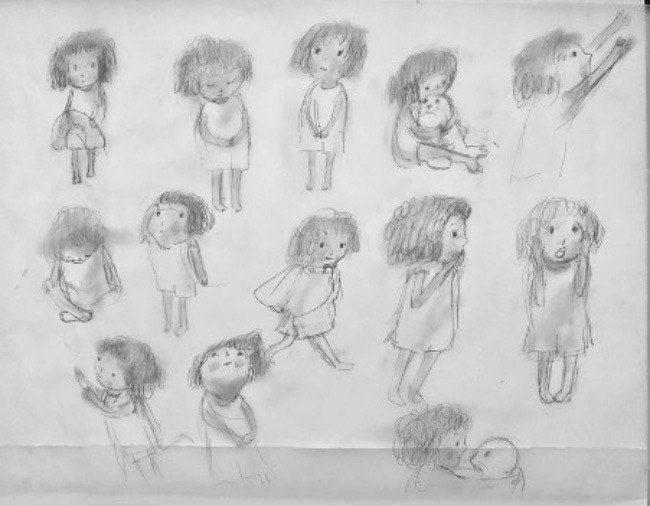 I then go on to colour where I start to decide on the palette. In this story I had to keep in mind that both the girl and the seal would be in a blue/green sea most of the time. They both had to stand out. That's why I made the seal white. I also had to consider the colour of the safety vest.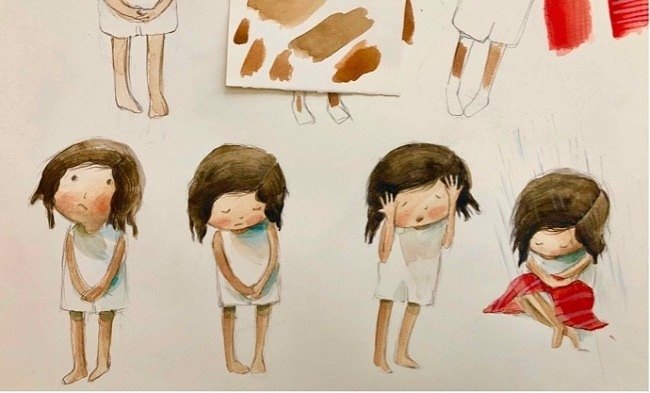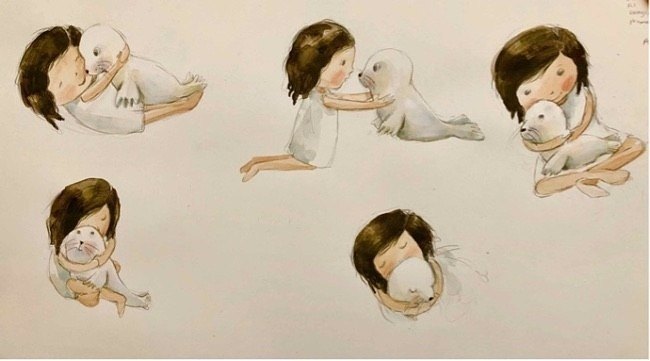 I decided after doing a few pictures that the cloth in the first scene hanging on the line would travel through the pages with the girl as her connection to home and hope. She uses it as a blanket , a head scarf and a sail. I gave it polka dots to lighten the mood of the artwork. Choosing the colour of this very simple object was incredibly difficult because it had to harmonise and not take over each scene, seascape and landscape.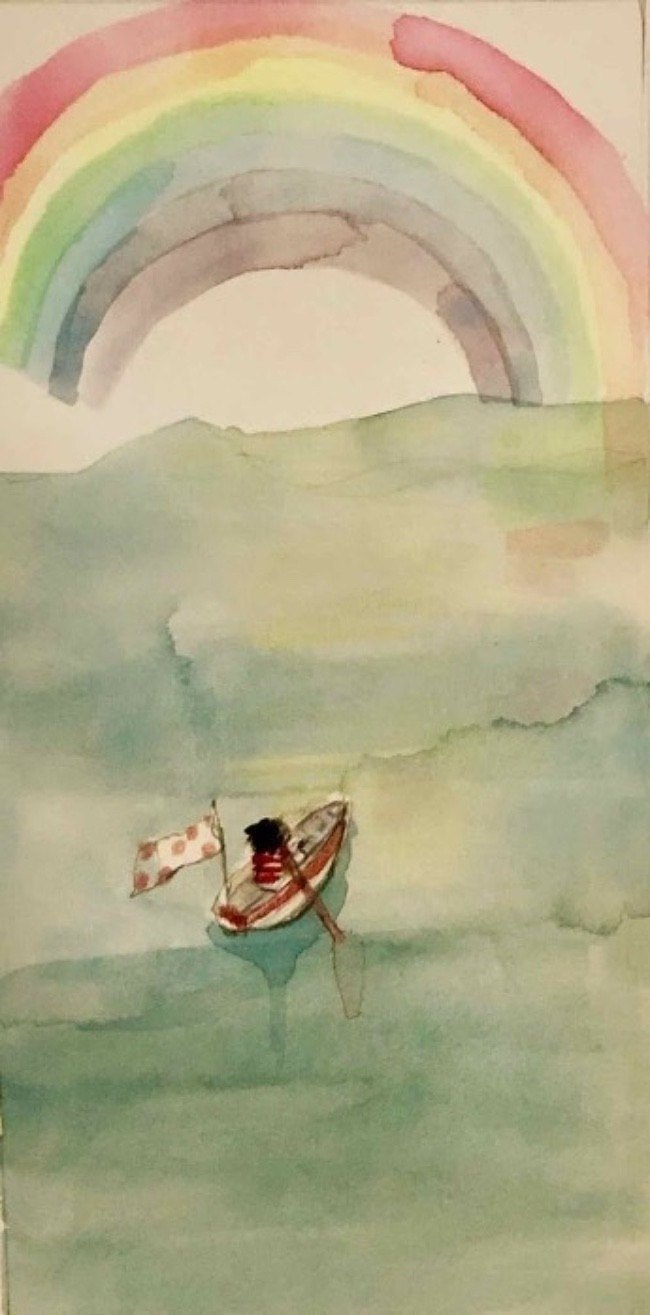 The story has deep sadness, loneliness and drama and I wanted to capture all of these emotions but not just in the expressions of the characters. Robert provided me with wonderful scope for wild imaginings. The storm, the sea and then the passage through time all played in my imagination as watercolour, pencil and collage.

Here is a storyboard rough of the storm. It is drawn on tracing paper with pencil and charcoal as I knew it had to be quite strong and dark.

At first the finished art it was very dull, grey and cold but I added a lot of green tones and pops of colour to lift the palette. The contrast was still strong but not too dark.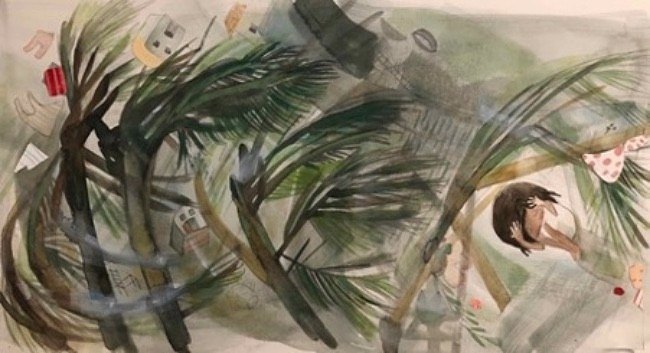 To create and encourage feelings of vastness, space and drama I used grey, green and blue tones for the sea and overemphasised sensational angles and perspectives. Here the girl feels sad, far and lost.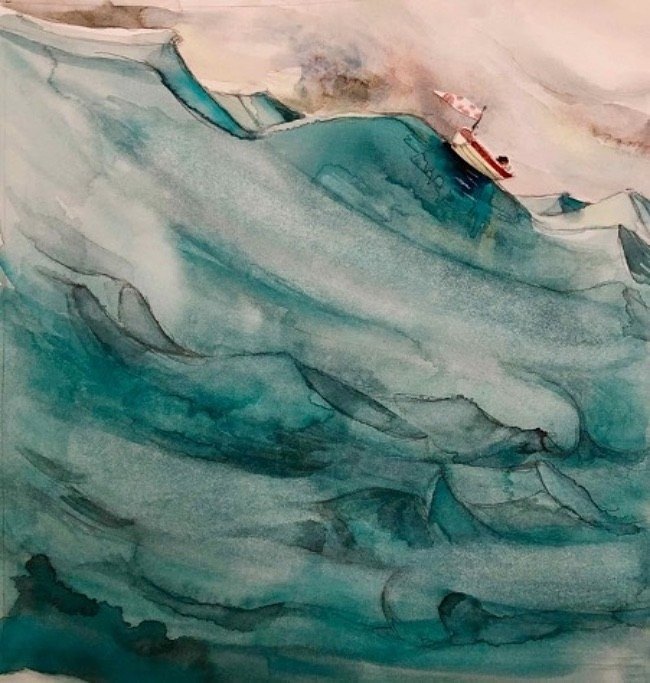 In the illustration below I hoped to capture a special heartfelt connection and warmth between the characters, a safe haven against a world of night and sea. I wanted stars so I used the sea as a kind of mirror to the sky.

This is my favourite illustration in the book. It hardly changed much from my original rough and it was very enjoyable to paint. Funnily enough I think its Robert's favourite too.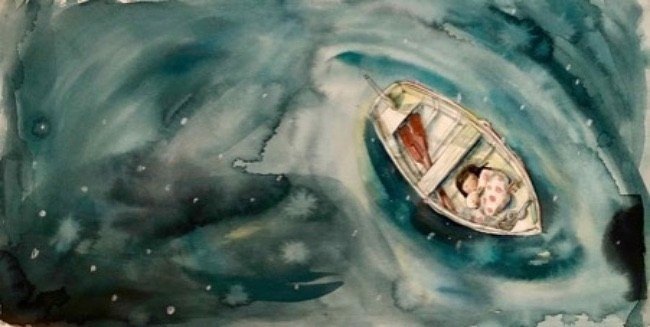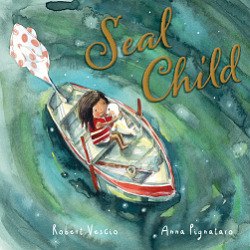 Seal Child
While a child searches for a place to call home, she is befriended by a seal. This lyrical tale is one of hope and friendship. Illustrator Anna Pignataro has captured the drama of the sea and sky, creating the perfect backdrop to Robert Vescio's enchanting story.
Purchase Here
---
Comments (0)
No comments have been submitted yet.
Why not be the first to send us your thoughts
Leave A Comment


Thank you for your comments, they will appear shortly once approved.