Kitty Black Talks Mr Bat Wants a Hat
April 29th, 2021
From work rituals to how Mr Bat Wants a Hat differed to Who's Afraid of the Quite Nice Wolf, Kitty Black tells us all about her new picture book!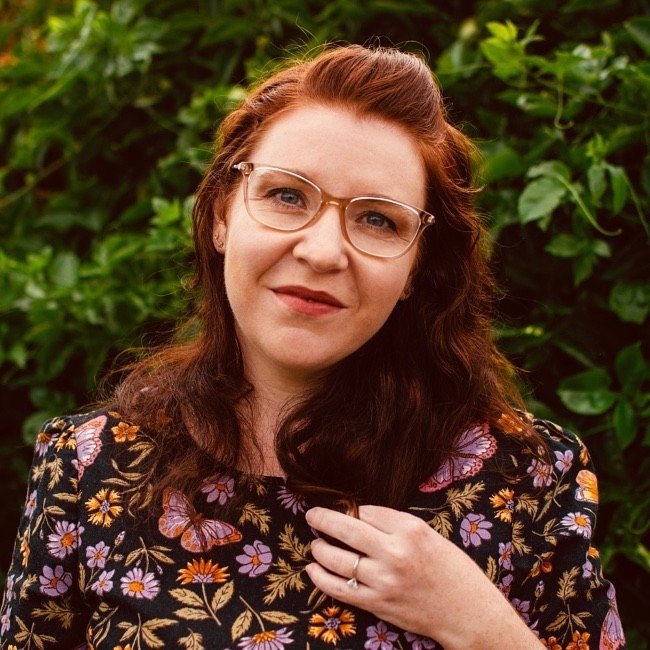 Tell us all about Mr Bat Wants a Hat!

Mr Bat Wants a Hat! is somewhat of an anti-hero story featuring a funny, cheeky bat who decides other people's headgear is fair game in the pursuit of being fabulous. He demands attention, awards and ultimately, learns about where his values truly lie.


Where did the inspiration originate from for Mr Bat Wants a Hat?

Mr Bat was one of those characters that just pop into your head out of nowhere. I was putting my son to bed one night when Mr Bat showed up, demanding accessories and generally being a bit dramatic. Once my son was asleep, I grabbed my notebook and outlined what I knew of the story, which at that point was mainly Mr Bat saying 'I want a HAT!'


How did the process for Mr Bat Wants a Hat differ/coincide with the process for your other book with us, Who's Afraid of the Quite Nice Wolf?

The big difference was not having to submit a manuscript to the slush pile, which is a definite boon to being previously published! I was thrilled to learn New Frontier wanted to pair me with Laura Wood again, and from conversations with her I knew she was keen on having a bat as a main character. Overall, the process the second time around was just as exciting, but in a different way. I knew the process for roughs and edits, but each book has a different energy and requires a different type of focus.


What was your favourite childhood book?

Enid Blyton has a special place in my heart. The Magic Faraway Tree for the pure fantasy, and Bimbo and Topsy for introducing me to the joy of cheeky animals in books!


What do you hope young readers will take away from Mr Bat Wants a Hat?

I hope it breaks down some barriers around our concepts of 'good' characters. From my own time in many playgroups and schools I know quite often kids struggle to identify with other's emotions until those emotions get loud! Mr Bat does not do the right thing straight away, which I think is reassuring for most of us. By using a character that leads to the question 'Is it hard to do the right thing sometimes?' we can have conversations around what kids might prefer to happen in a situation versus what works best for everyone. Also, I hope they like mischievous bats as much as I do!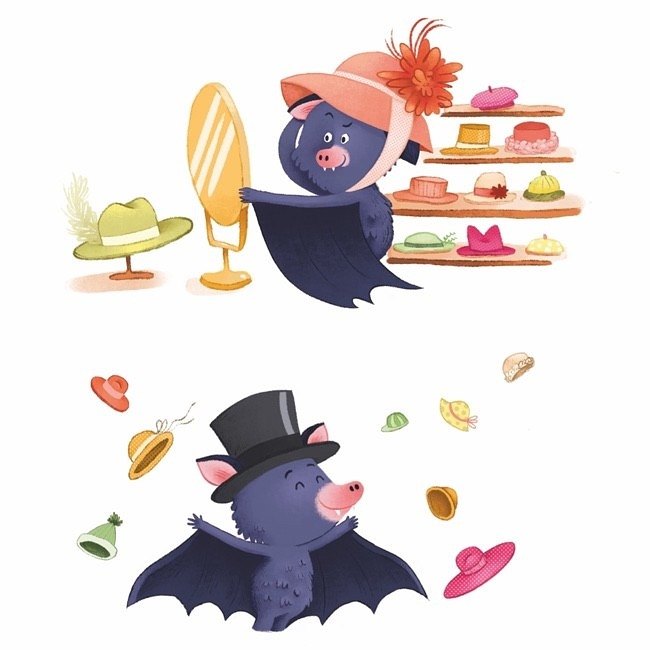 What was the most challenging part about writing Mr Bat Wants a Hat?
Finding a way to present a character who I thought was hilarious and had such affection for, while maintaining warmth and depth in the manuscript. I didn't want Mr Bat to come across as a 'what not to do' character when he's more of a 'in moral development' character. I love the humour of Mr Bat and I hope that shines through. There was also a brief point where I tried to write in rhyme. It was not successful.
Do you have any routines or rituals whilst you work?
I have two different types of offices, one is in my back garden and when I sit down there to write I like to light a candle as a visual signal that I'm working (both to my family and to my imagination). My other office is a bag that contains my laptop and notebooks with my current manuscripts. When I grab my 'office bag' I usually end up at a café which means obviously I have to order coffee and cake. I didn't anticipate a steady supply of candles and lattes as being crucial to my working life!
If you weren't a writer, what would you love to do instead?
I have a background in psychology and if I wasn't writing I would be back in quiet rooms talking to people about their stories.
Who or what is your biggest inspiration?
Inspiration is impossible to nail down! It's everywhere! Having said that, my kids and partner make me laugh every day. Quite often they'll say something, and I'll think 'Hmm, there's a story in that.'
Tell us an interesting fact about yourself!
I've never had a pet bat, but my family did rescue and rehabilitate a sugar glider when I was a child. Her name was Honey, and she would swoop us from the curtain rail in the living room. I'm not sure how Honey felt about accessories, but she had strong feelings about apples!
We would like to say a big thank you to Kitty for shedding some light on her wonderful new picture book!You can find Kitty on Instagram, Twitter, Facebook, and on her website.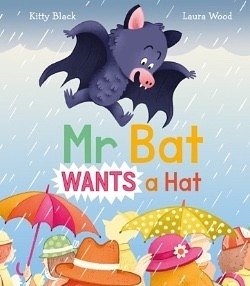 Mr Bat Wants a Hat
Mr Bat is missing something. Something important. A HAT! He WANTS A HAT! Soon he finds the perfect pink hat with pretty roses and covered in GLITTER. But this hat belongs to someone else... Which doesn't bother him AT ALL. Or does it?
Purchase Here
---
Comments (0)
No comments have been submitted yet.
Why not be the first to send us your thoughts
Leave A Comment


Thank you for your comments, they will appear shortly once approved.