New Frontier Creators at Chiswick Book Festival 2020
September 8th, 2020
Two New Frontier creators were part of the annual Chiswick Book Festival on Sunday 15th September; Lucy Barnard, author and illustrator of Ruby and Graham, and Nicole Prust, author of The Sloth and the Dinglewot.

For the first time ever, all the talks were taking place entirely online. There was full schedule of events, with viewers being able to watch sessions live via zoom or pre-recorded videos. Even with this new approach, the two did a fantastic job at hosting their events via video, and making them an engaging and interesting experience for all.

To see all the events of the festival: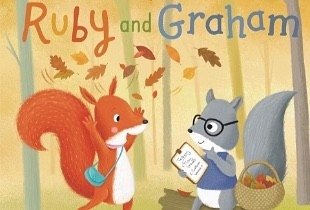 Ruby and Graham
Ruby loves fun while Graham loves organising. In their own unique ways, they make sure that Acorn Wood is a beautiful and lively place. But when Graham decides to party all the time like Ruby, the chaos and confusion in the wood gets out of hand. Who will step up to set things right?
BUY THE BOOK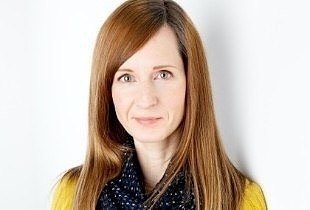 Lucy Barnard
Lucy is from Cheltenham but now lives in Manchester with her husband and two children. After completing her art foundation course in Cheltenham and her illustration degree in Exeter she worked at various publishing companies in London before joining Advocate Art as a freelance illustrator. She worked for many years with acrylic paint and pencils but has recently adapted her illustration style and now works digitally. As well as illustrating for others she also writes and illustrates her own stories, quite often inspired by her children!
Click the video below to watch Lucy Barnard talk about her new book and show you how she draws the pictures – and how you can too! Supported by Chiswick & Bedford Park Preparatory School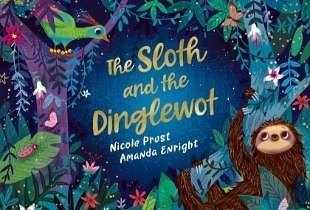 The Sloth and the Dinglewot
When Samuel the Sloth feels brave enough to leave his cosy hut, he meets the mysterious Dinglewot. Together they discover incredible places, and Samuel will learn that overcoming fears and doubts means more adventures, friendships and happiness.
BUY THE BOOK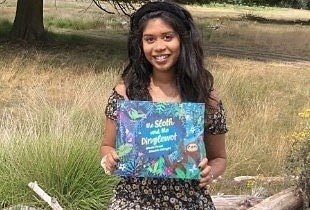 Nicole Prust
Nicole was born in Sri Lanka and came to England when she was 3 months old. She is currently a primary school teacher in London. As a child, she never craved the adrenaline rush, and was quite nervous. At work, she often sees that 'fear of the unknown' in the children she teaches, which inspired her first book. Her love for creative writing started when she was a child and her dream for so long was to publish a book and encourage children to try new things and find inner strength. Now that dream has come true!
Click the video below to watch Nicole Prust explain how she came to write the book, read from it and answers readers' questions.
---
Comments (0)
No comments have been submitted yet.
Why not be the first to send us your thoughts
Leave A Comment


Thank you for your comments, they will appear shortly once approved.