Keep your eye on this page for upcoming competitions and giveaways!
Hodge Podge Lodge Competition
The Pigwigs live happily in Hodge Podge Lodge, making lots and lots of mess. But they never think about where their rubbish goes... until their neighbours decide enough is enough. Can Little Miss Pigwig's nifty new idea help solve the problem of all that rubbish? A lively story about taking care of our environment and the importance of recycling, we hope it inspires you!
To get you excited about recycling we are giving away 5 copies of the book
Hodge Podge Lodge
by Priscilla Lamont , you just have to answer this question:
Q: What is the name of the family of pigs who live in Hodge Podge Lodge?

Submit your answer at the bottom of the page.
Deadline for entering is
Friday December 14.
Good Luck!
SEE THE BOOK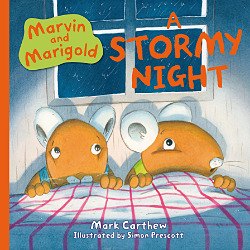 Marvin and Marigold: A Stormy Night Competition
On a wild and stormy night Marvin and Marigold are scared. The wind rattled windows, whistled and whirled as lightning bolts cracked and thunderclaps swirled.
Will they make it through the night? We certainly hope so.
To help them,
we want you to design them an extra special duvet cover to keep them safe while they hide.
The winner will receive a
one-off original piece of artwork
by the ultra talented illustrator of the series, Simon Prescott
and a copy of the latest book
in the series
Marvin and Marigold: A Stormy Night
by Mark Carthew.

Four runners up will receive a copy of the book too.
So get designing!
Download the template picture,
do your design digitally, or print it out then scan it back in, and submit your finished design below with the 'upload a picture' button.
D
on't forget to fill in your details too.
Get your entries in by
Friday December 14.
Good Luck!
SEE THE BOOK