Competition: Ash Dresses her Friends
Enter for your chance to WIN one of 5 copies of a new picture book by the award winning author and illustrator Fu Wenzheng.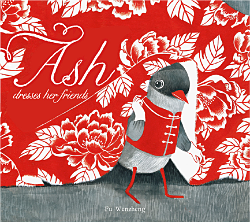 Ash Dresses her Friends
Written and illustrated by Fu Wenzheng
RRP: £11.99
ISBN: 978-1-912076-74-1
Ash is feeling lonely. She wishes she had someone to play with. Then a sad elephant comes along and Ash has an idea that will cheer him up. Soon she is sharing her idea with lots of animals in the forest. Ash dresses her friends is a lovely warm story that teaches children about the importance of sharing.
Fu Wenzheng used her knowledge of traditional Chinese art and international expression to illustrate this picture book. She used the technique of Ink Wash Painting, using only three colours to create wonderful traditional images. The words are simple and rhythmic, designed to harmoniously integrate with the illustrations to make the reading easy and enjoyable.
The competition will close February 28th
Answer the following question:
What is the significance of the colour red in Chinese culture?