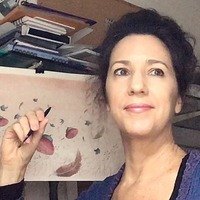 Hélène Magisson
Illustrator
Hélène is a French-Australian illustrator. She started her artistic career as a painting restorer in Paris, where she was also trained in the art of medieval illumination.
Hélène has lived in Africa, France and India. She is now settled down in Australia with her family. Her travels both inspire and enrich her work.
In 2013, she started a new career in children's book illustration. Since then, she has illustrated several books including classics like The Velveteen Rabbit by Margery Williams Bianco and more contemporary stories like Slowly! Slowly! by T.M. Clark, CBCA 2018 notable picture book of the year.
Hélène is an award winning illustrator (first prize CYA conference 2013).
Books by this Illustrator