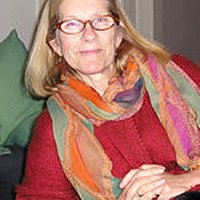 Chantal Stewart
Illustrator
Chantal was born in Paris where she studied at The School of Applied Arts and commenced her career as a graphic designer and illustrator in the advertising and publishing world. When she arrived in Melbourne 15 years ago with a wonderful folio of work - both professional and personal - she realised her dream of illustrating children's books.
Chantal works for some of Australia's most renowned publishers including Penguin, Allen and Unwin, University of Queensland Press and Macmillan. Through the years, she has had very rewarding partnerships with some writers, in particular with Joan van Loon. Together they worked on one of children's most loved books: Smelly Chantelly (shortlisted for 3 consecutive years in the YABBA award).
Seven years ago, Gabriel Gat', famous cook and food writer, joined the team and they produced two wonderful story and recipe books: Anyone Can Cook and The Chocolate Lovers, to introduce children to the joy of cooking. Both books won several awards among which " Best in the World Children's Cookbook".
The latest books illustrated by Chantal include Luke and Lulu (written by Bruce Dawe) and The Rock-and-Roll Ducks (written Janeen Brian), published by Penguin, and, obviously, Max Meets a Monster (written by Tracey Hawkins) , published by New Frontier. In 1999, Ghost of a Chance (written by Nette Hilton) and this year To the Light (written by Pat Flynn) were shortlisted in the CBCA.
At the moment, Chantal is working on a new book for New Frontier.
Books by this Illustrator